Foreclosure comps can give you a clear picture of potential REO listings for the next 6 to 9 months, and will help you get listings priced to sell, buyers off the fence, and your bank offers approved. Remove the Fear, Uncertainty and Doubt of home buying by incorporating Foreclosure Comps into your opportunities analysis.
What are Foreclosure Comps?
A Foreclosure Comp is a ist of foreclosure properties comparable to a subject property, similar to MLS based Comparable Market Analysis (CMA), typically showing comparable properties in terms of location, beds, baths, and other features. However, these properties are not typically listed in the MLS. Instead, the information comes from public records.
Foreclosure Comps offer Realtors a glimpse of properties in foreclosure as well as properties recently taken back by the bank at auction. The foreclosure comp report allows you and your clients to see the discount that banks are taking in a particular area. An advanced glimpse of a market helps Realtors price aggressively, secure the best deals for buyers and sellers and get bank offers approved.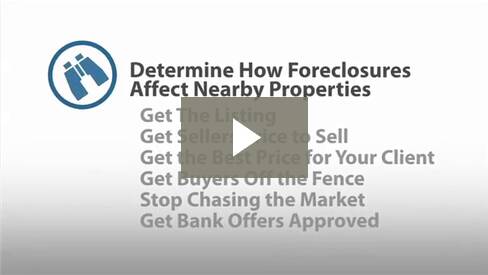 Understanding status
Foreclosures are broken down into stages similar to the Active, Pending and Sold statuses in an MLS Comparable.
| | |
| --- | --- |
| Status | Description |
| Bank Owned | Likely to show up as REO listings in the next 2 to 4 months, these properties provide the best pricing information as banks typically set an auction opening bid at or near what they see as the wholesale value of the property. |
| Auction | These properties are actively scheduled for foreclosure sale with a considerable percentage likely to show up as REO listings in a 3 to 6 month time frame. |
| Preforeclosure | While a little less certain at this stage, a percentage of these properties will end up as bank owned properties (REO) in the 5 to 9 month timeframe. |
Understanding amounts
The status of the property indicates which bid type to look check out. The estimated and published bid amounts pertain to the loan in foreclosure and what is owed. The winning bid shows what was actually paid. None of these numbers reflects the possible list price of the property in a traditional sale.
| | | |
| --- | --- | --- |
| Status | Amount | Description |
| Bank Owned | Winning Bid | This is the amount the lender was willing to take to unload the property quickly. |
| Auction | Opening Bid | The actual beginning bid the bank will make at the auction. This value can be discounted off the published bid and is sometimes available a few days before the sale. Other times, nobody hears the opening bid until the property comes up in the list at the courthouse steps. There can be several entities responsible for determining the opening bid, such as a servicing lender, investing lender, government reinsurer, or mortgage insurer. It is impossible to tell before it is announced which properties will have a discounted opening bid. |
| Auction | Published Bid | The estimated total debt on date of the foreclosure auction. It includes the principle, past due interest and foreclosure fees and may be discounted in the opening bid at the sale. |
| Preforeclosure | Estimated Bid | The loan amount plus default amount. This amount is likely to change a when the Published Bid is released in the Notice of Trustee Sale, and may be discounted at the actual sale. |